Strategy + Design + People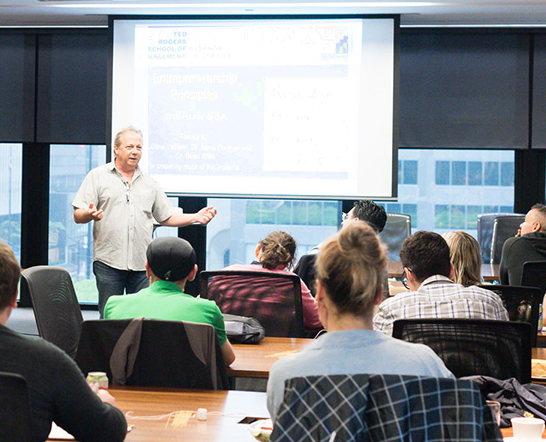 Strategy + Design + People
I do keynotes and speak to media and other groups regarding the cannabis industry, small business, design thinking and lean startup topics.
I'm proud to teach in the world-leading Entrepreneurship program at Toronto Metropolitan Univ.  (formerly Ryerson) in Toronto, Ontario.
I help startups and more established businesses with issues around strategy, finance, sales, marketing and growth issues. I specialize in lean and agile tools.
Mini Courses and Seminars
I can speak to your staff on the most up to date principles being used in Entrepreneurship today. I can educate your team on any of the following:
Lean Startup
Design Thinking
Cannabis in the Workplace
"Brad probably didn't even realize the indirect mentorship and positive impact he provided to me in my early career. It was inspiring observing him apply strategic thinking and business savvy as he led the charge in intrioducing an innovative new product platform into the company at the the time."
"Brad is a guy who knows how to mentor the innovators and build new innovation in large companies and small. He combines a real-world entrepreneurial background building and scaling businesses, and corporate background at Telesat building an innovative new business area within a mature business (where I worked as part of his team launching DirecPC), along with MBA academic smarts, and a stellar career as a Lean Start-up educator at Ryerson. If your goal is creating innovation capacity, you want Brad working with your team."
"Brad is hands down one of the best professors I've enjoyed getting to know throughout my post-secondary education. He is as realistic as it gets and gives awesome advice. I would recommend Brad to anyone that would like to gain valuable insight. Trust me, you won't forget this guy he's a real genuine person!"
"Brad not only brings a wealth of knowledge into the classroom but is genuinely excited to share his knowledge with students. Brad has a contagious energy in the classroom making it near impossible for someone to sit in his class and not learn something new. I always looked forward to Brad's class and never felt like I couldn't ask for help. I would select any class Brad was teaching in a heartbeat as it is an excellent learning experience. I would recommend Brad as a professor in an nano-second to anyone."
Brad Poulos is a battle-hardened entrepreneur, educator and researcher who has led companies in the telecommunication, software and, most recently the cannabis industry.
His experience has focused on running and helping companies with issues related to growth, business development, business optimization and business strategy.
As an expert in lean start up, he has helped launch and grow several companies – either as a board member, as an official mentor at several Ontario incubators, or as unofficial advisor. He also enjoys making music